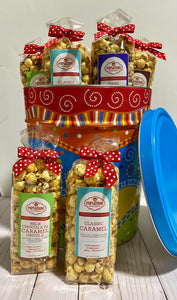 A decorative tin filled with individual bags of popcorn that the whole gang can share.  Each tin is filled with a selection of our distinctively delicious handcrafted flavors: Classic Caramel, Cinnamon Caramel, Dark Chocolate Caramel Drizzle and Salted Caramel.
Choose your tin size and bag size.  The extra large tin contains 20 snack size bags OR 16 small ribbon bags.  The large tin contains 12 snack size bags OR 8 small ribbon bags.
Note:  Tin design is subject to change due to inventory limitations.  If necessary, a solid red tin may be substituted for the tin pictured.